Contact

Us
Email: Beth@DoodleDooFarm.com
Phone: 503 332.7792
Where's The Farm?
The pasture is a small acreage in Banks, Oregon, just off Highway 26
Visits to the land can be made by appointment if you'd like a personal look at how your food is produced.
Who Are You?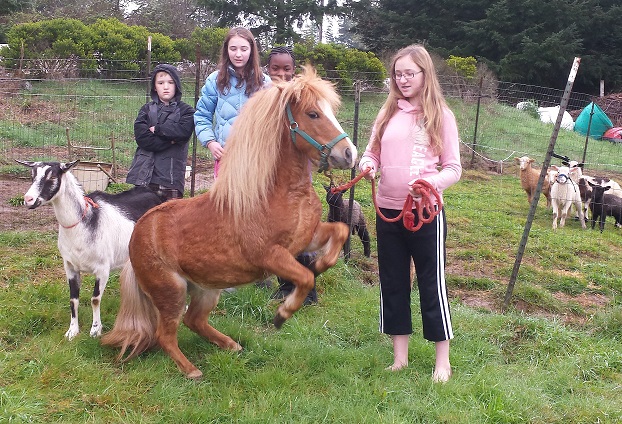 I am the mother of 3 children and a childhood-cancer survivor, so food quality has always been very important to me. I've had chickens for 26 years and in the late 70's and early 80's I had ~100 hens and sold eggs to a couple natural/health food stores. We moved off the farm in the mid-80's and it wasn't until '98 that I had chickens again. Since then I've just had chickens for my family's personal use & enjoyment. We are a small family-run farm and I bought the "young" Doodle Doo Farm in May 2014 because the prior farmer had unforeseen circumstances and this was the perfect fit for our family. My husband, Jeff, brother-in-law, Rob, and I moved the 200 hens and their 5 open-air houses to our 15 acre farm with 4 sheep, 13 lambs, 2 goats, 2 hogs, 12 hens, 4 roosters, 32 chicks, 1 duck, 1 turkey, 1 cat, 2 dogs, 1 horse, 1 mini-horse and our half Jersey/half Angus heifer calf named Jezabelle. I am excited to be the new chicken farmer for these awesome hens and they've integrated well with our current poultry.
It's amazing how many things you can make with eggs or just eat them by themselves. Eggs are one of nature's perfect foods, as we all know. You probably have some in your fridge right now, don't you? Well, it's time for an upgrade.
My passion for making food has led me into actually growing my own food. Now I want everyone to have the opportunity to eat local, pasture raised eggs and get the convenience of regular delivery.
Think of me like your grandparents thought of the milkman, only eggier.
Beth Kittle, Owner & Farmer